This website is dedicated to the famous radio-DJ Charly 2000. Charly was on air since 1987 from many broadcast stations all over Southwest-Germany. With his mobile discotheque he achieved great success in the early seventies and later on, being technically ahead with the most state of the art technology in sound and light available at that time. For a period of four decades Charly toured through the towns and cities across the area of Baden and beyond, making people happy with his unique shows. He was a visionary radio pioneer and a true legend in the broadcasting business with a huge community of people even today following the spirit of Charly 2000.
Being a professional broadcast engineer with a remarkable voice and a strong demand for perfection in technology, Charly had the best start-up conditions to become what had been always his very own brand: an excellent showman in the domain of live disco entertainment, radio presenting and television. Incredibly, running multiple club venues at the same time, Charly's Fun-Factory, Hurricane and Amun, just to name a few, was an outstanding act of genius and tough business know-how. To organise every single part of such a large-scale project successfully needed a mastermind of logistics – and Charly was the perfect man for that job.
Growing up in the era of analogue broadcasting, Charly 2000 started his career by turning an idea into reality, which entertainer Thomas Gottschalk described in his early movie "Radio Powerplay": to build up a true pirate radio station. Of course, nothing was intended to be illegal in terms of the law, but the nature of the time and place that the project took place, made it difficult to be one hundred percent safe regarding licensing issues. In 1987, the year when the transition from state monopole radio stations into private-driven radio stations led to a legal limbo, everybody was rushing to be among the first "on air". The first transmitter Charly set up, was located in Strasbourg (France), power supply one kilowatt. It was mandatory to call the real thing same as the fictional one with a little extension: "Euroradio Powerplay". Due to requests for larger audiences and for competition, expanding the operating distance was essential for Charly 2000. Further antennas with higher power were erected and bought from other stations that went bankrupt. 1989, when the French government authorities started to close all radio stations whose licenses were not one-hundred percent compliant, Euroradio wasn't among the lucky ones that were allowed to keep running their program. The good news was however, that Charly 2000 himself had become a well-known personality in the broadcast-industry so, the listeners remembered him and therefore it was only logical that Charly could make a successful comeback at Radio Ladies First, one year later.
Since Charly was an extraordinary workaholic, he got to push his success further. He made his way over to Radio Regenbogen, one of the biggest broadcasters in business during the 90s and still today. With huge popularity, the Charly 2000 Friday night program ran for a whole decade, nonstop. Alongside this his mobile roadshow quadrupled, now on the road as a four seven-and-a-half-ton monster-trucks, Charly reached the very peak of his career when television asked him to present his own show simulcast on TV-Baden. At the turn of the millennium, digital transmission was emerging quickly, it again became necessary to come up with a new idea for Charly 2000, in order to sustain the great success in the media business. Thinking big, the consequence had to be to construct and build a club venue – a monument – that would guarantee persistence beyond his lifetime: it was called The Codex-Club, located in Achern, Southwest-Germany. The revolutionary technique behind its sound and light was highly advanced of course – even by today's standards. Thousands of fans, famous musicians, and celebrities from all over the world visited the Codex during the following years, to be part of the big show: Charly 2000.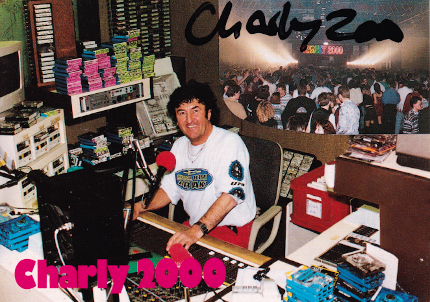 ---
Here are some pictures of my 3D-Disco rebuilding-project. Its work is still in progress, more details and improvements will follow. All objects and effects were modeled in Blender. The real discotheque was used for mobile entertainment and consisted of a big part of connected traverses, which could be raised up by four motors, one on each corner. Under every motor, a black catch-bag for the chains was attatched. This made sense, and was done to prevent the outcoming chains from touching ground. All motors had to run precisely synchronized, to keep the main truss in horizontal position. The "cages" which contained professional lightning effects, were special constructions, holding whatever was installed inside in its center, saving room and space during transport. When unlocked and raised, the inner devices sank out of the bottom, getting in ready-position for operation. Fantastic visuals came from the "lightning-rows". They were made up by a line of ten spotlight radiators each, their angles could be controlled individually by the VJ on the console next to Charly 2000 himself. Since Charly wanted to present additional spotlights which could be moved one-by-one separately, he installed a pair of "eight-star"-VFX devices in extra at the front of the traverse-truss. Another one of the very main attractions at Charly 2000 mobile discotheque was the unique "special-roundabout-carousel" projector. Heavy-weighted and more than two meters in diameter, it could be remote lowered and raised independently from the upper truss it was attatched to. Its outer hull looked like a space-satellite – with bright glittering metal. Five plates on the corners were capable of being deployed. Colored inner lightning was optional switchable. The outer radiators, on top of each other, counted ten in numbers (they were the biggest ones). Smaller lightning emitters (also ten in numbers) had been arranged circular directly one level down and, finally on the bottom, six bigger emitters could be found beside a flowerlike cut-out of small holes at the center. The whole unit and its functions was controllable via remote by the VJ.